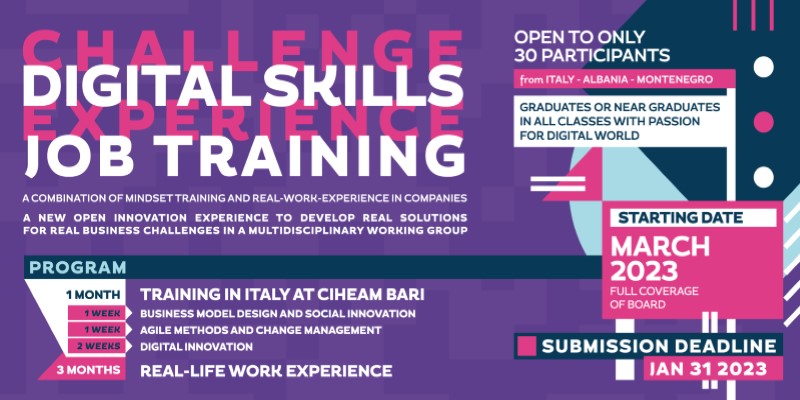 FOOD4HEALTH, Training Course "Digital skills enhancement in Green & Blue Economy"
Overview
In the framework of the project "FOOD4HEALTH "Sustainable and innovative agri - food and fisheries value chain for SME's cross-border market", the project partner CIHEAM Bari (Puglia – Italy) is organizing the training course "Digital skills enhancement in Green & Blue Economy" aimed at selecting 30 participants, graduates and nearly graduating students (enrolled in the final year of a bachelor's degree) from the target area (Puglia (IT), Molise (IT), Albania, Montenegro). 
The course will be a combination of mindset training and real work experience in private companies in order to develop real solutions for business challenges in a multidisciplinary working groups. The starting date will be on March 2023 and the first month of the training will be held in Italy at CIHEAM Bari premises, focusing on business model design and social innovation, agile methods, change management and digital innovation. 
The course will be completed with a 3 months real-life work experience in private companies located in the eligible territories of the Programme. The partner will ensure the full coverage of board.
After a presentation of the initiative held in Albania in December 2022, CIHEAM Bari will have a meeting presentation in Podgorica (ME) on 24 January 2023 at NEST COWORKING, Cetinjski Put, and in Molise on 25 January 2023 at the premises of the Department of Agriculture, environment and food of the University of Molise.
The links for the initiative are the following: