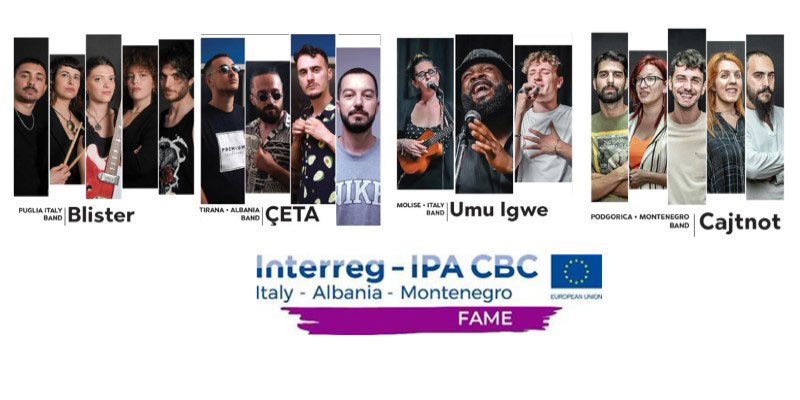 FAME project, a story of young artists becoming musicians
Overview
Within the project "FAME - INNOVATIVE MODEL for YOUNG ARTISTS CROSS BORDER LABORATORY" four bands were created, with the aim to strengthen their artistic and digital communication skills. 
The bands are: Apulian band "Blister" - composed by Cristiano Cosa, Kyoto Lp, Desario, Donatella Spinelli, Preso Male, Molise band "Umu Igwe" - Daria Tanno, Happy Eborka and Ivan Stray - the Albanian Collective "Ceta" - with Shiny, Sinkro, Dann, Fanatek - and the band from Montenegro "Cajtnot" - composed by Midori, Solosoul, Bellerophontes, Snowy Rubinsten and Nichtwagen. 
They all had a chance to collect a valuable experience in the last couple of months by being a part of this programme. Besides upgrading their musical and vocal skills through workshops, they experienced performing in different countries in front of the different publics. Through artistic events and weeks that were organized in Puglia, Molise, Podgorica and Tirana, the bands performed at concerts, where they had the opportunity to meet other musicians and to share knowledge with them.
Before public performing, the Montenegrin band Cajtnot participated in workshops and trainings in Podgorica, during which the artists improved their skills. During the workshops, led by two experts, Stefan Pantovic and Ivan Ivanovic, artists learnt how to work as a band and how to present their music in the best possible way to the audience. Both mentor and assistant helped the young artists to revamp skills regarding playing, singing, arranging, and lyrics writing and to develop better communication with the audience. 
Regarding concerts, the bands staged at the festival Medimex in Spazioporto - Taranto, the Cinzella Festival in Grottaglie, at the Castle of Civitacampomarano in Molise, at the Musical Center of Montenegro in Podgorica and in Tirana Shesi Shen Tereya. 
"FAME" is an accompanying path, intended for pop, rock and trap songwriters between 18 and 35 years, which aims to strengthen their artistic and digital communication skills and which will see the creation of a video format for TV, as well as the production of a new music project.
"FAME", co-funded by the Interreg IPA CBC Italy-Albania-Montenegro Programme, has as partners the Teatro Pubblico Pugliese and the Municipality of Civitacampomarano (CB) in Italy, the City of Tirana in Albania (Lead Partner) and the RTCG - Radio and Television of Montenegro.