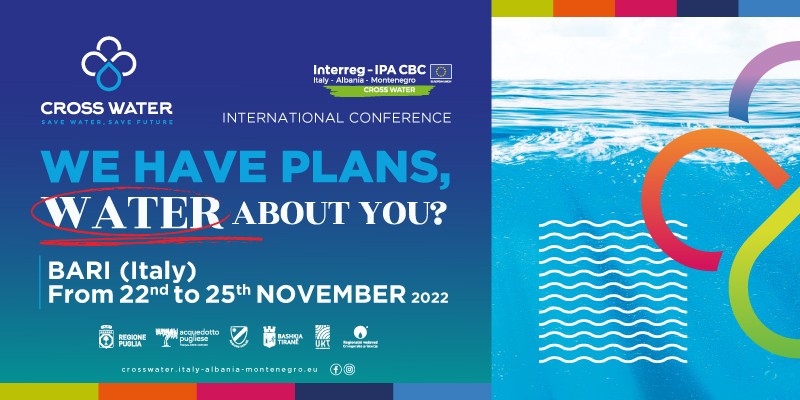 CrossWater International Conference in Bari from 22 to 25 November
Overview
The CrossWater International Conference is a large thematic event on Water Integrated Management System, which is hosted in Bari from 22 to 25 November 2022 at the Hotel "Parco dei Principi", as part of the project "CrossWater".
Digital transition, sustainability and climate adaptation, innovation of management systems of the water resource and circular economy, upskilling and future scenarios, are the main topics of the Cross Water large thematic event on Water Integrated System. 
The programme is composed of round table and panel discussions with technical and scientific speakers, study visits at laboratories, hydraulic plants and museums. Moreover, there will be cultural events with concerts about water sounds and talks about the future of the most precious common good, together with Michele Mirabella and the youtuber Barbascura X.
The guests come from the countries involved in the cross border cooperation project (Albania, Montenegro and the Puglia region) and include representatives from ministries, regional public authorities, municipalities, national and international universities, research centres, managing companies of hydraulic plants.
If you are interested in the topic, join the event and deepen your understanding of important issues for the future of the planet. Register HERE for online attendance: 
Cross Water is a project co-funded by the Interreg IPA CBC Italy-Albania-Montenegro Programme. Lead Partner: Puglia Region. Partners: Acquedotto Pugliese, Molise Region, Municipality of Tirana, Tirana Water and Wastewater Utility and Regional waterworks for Montenegrin coast, Budva.