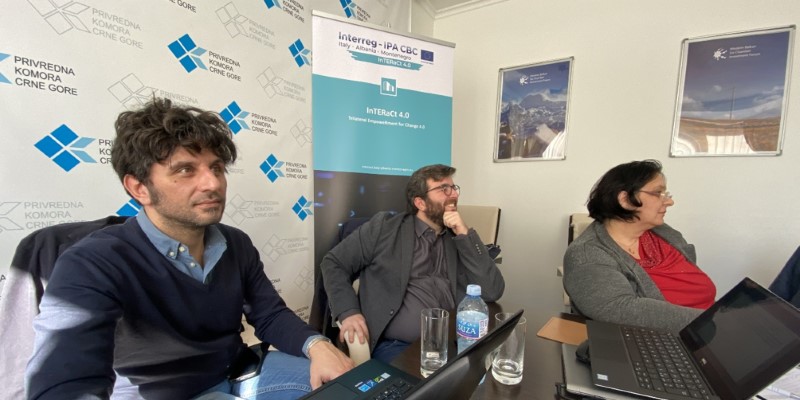 INTERACT 4.0, Steering Committee meeting in Podgorica
Overview
The first Steering Committee meeting of inTERact 4.0 project was organized on 12-13 February in Podgorica, at the premises of the Chamber of Economy of Montenegro. The meeting was attended by the representatives of five project partners. The meeting was also attended by the National Contact Point for Italy-Albania-Montenegro Programme in Montenegro. The purpose of the meeting was to talk about project implementation and tackle any issues that are affecting project activities.
About the project
Puglia, Albania and Montenegro are connected by good economic relations, which are strengthening with the process of adjustment towards European standards that Albania and Montenegro are going through to entry the EU. The Region today faces the innovation challenge, through the smart factory model, equipped with self-check devices in the lines of production, escalation of companies' digital processes and high cross-border connectivity.
inTERaCt 4.0 promotes the development of this growth model, through four key actions:
 Analysis, based on research and methodological surveys, of the needs of enterprises in the handcrafted production sector;
Definition of the Mediterranean Innovation Hub (MIH), an instrument shared by the three countries, to promote and support broad approach to innovation. At the operational level, the MIH aims at: the construction of an environment that gathers industrial associations, research centres and enterprises around a smart model; develop an office that provides technical support on research and innovation and the economic measures to support them; development of a "Smart Showcase", a training experiential workshop to share digital solutions for company processes.
Establishment of a system economically viable over time, to train and update the human capital that will support the enterprises' upgrade, in terms of organization and production;
Creation of an ICT & Skills Cluster Platform and Technological Services, to share and benefit from sharing of company skills, guidelines and policy documents for the transformation of processes inside the handcrafted production sector.
Project partners
Bashkimi i Dhomave të Tregëtisë dhe Industrisë së Shqipërisë (AL)
Qendra e Promovimit të Biznesit dhe Ekonomisë (AL)
Camera di Commercio, Industria, Artigianato e Agricoltura di Bari (IT)
Università del Salento (IT)
Privredna komora Crne Gore (MNE)
Univerzitet Mediteran (MNE)