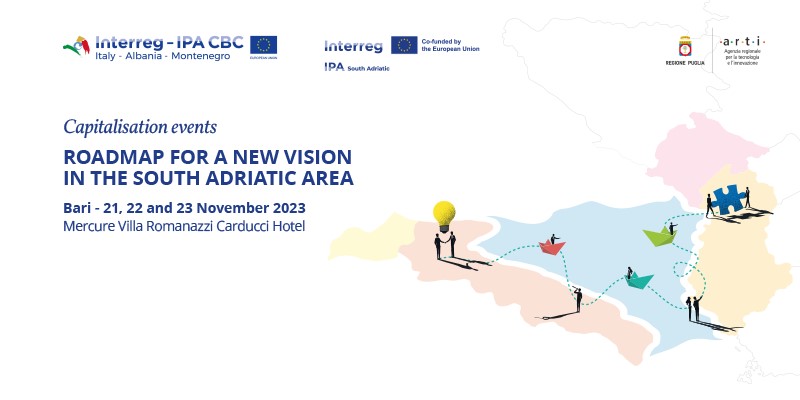 Navigating Future Pathways: "Roadmap for a New Vision in the South Adriatic Area"
Overview
Interreg IPA CBC Italy-Albania-Montenegro 2014-2020 towards Interreg IPA South Adriatic 2021-2027
Bari prepares to host a transformative series of thematic events from 21 to 23 November 2023, under the title "Roadmap for a New Vision in the South Adriatic Area." With an impressive lineup of distinguished experts and stakeholders, this event is set to chart a new course for the South Adriatic region, building upon the successes of past Interreg projects.
The initiative holds a pivotal objective: to consolidate, reuse, and transfer knowledge and experiences from the 2014-2020 period, capitalising on them in the 2021-2027 implementation phase. It introduces innovative tools, including clustering planning, with the aim of emphasising project results and their impact on the respective territories, in alignment with the directives of the European Commission.
Thematic Focus and Methodology
The five thematic events will delve into crucial topics such as Tourism, Governance, SMEs, Smart Cities, and Active Mobility, strategically addressing the imminent challenges of climate change, technological revolution, social responsibility, gender gap, and the ageing population.
All the sessions promise an innovative blend of methodologies, including dynamic living lab approaches, insights from international experts through keynote speeches, discussions, and a presentation of a results-driven roadmap. Conducted entirely in English, these events serve as an invaluable platform for cross-border cooperation and the exchange of ideas.
The agenda for each session is available here:
Anticipation for the Future
Each meeting will arm participants with enriched knowledge and contacts, empowering them to craft new projects and potentially participate in the upcoming Interreg IPA South Adriatic standard call, expected for January 2024.
With the event starting tomorrow, the stage is set for a collaborative journey towards a revitalised, dynamic future for the South Adriatic area.
Admission is free, but registration is mandatory. Choose your preferred topic and register HERE.  Don't miss out! Some spots are still available!!