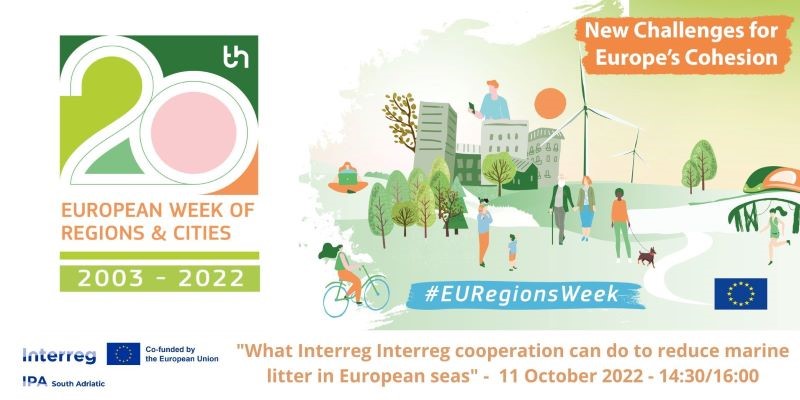 SOUTH ADRIATIC, don't miss our workshop at #EURegionsWeek. Register now!
Overview
Marine litter is a growing global problem and its prevention requires public engagement and behavioural change. It's not only a threat to the planet: it affects all of us!
If you want to know what actions can be taken, join us on 11 October 2022 (14:30-16:00 Brussels time) for the online workshop "What Interreg cooperation can do to reduce marine litter in European seas", scheduled during the European Week of Regions and Cities 2022.
This workshop aims to promote dialogue and networking among Interreg programmes and stakeholders on effective measures to increase environmental sustainability, tackling the specific marine litter problem in connection with the new generation of EU programmes. 
Among the best practices presented, there are our projects ADRINET and WELCOME, which developed governance plans to preserve biodiversity and coastal ecosystems, and manage long term marine litter in the programme area.
The event is jointly organised by the Interreg programmes South Adriatic, Italy-Croatia, Central Baltic, Italy-France Maritime, South Baltic.
Register HERE and stay tuned for more updates!