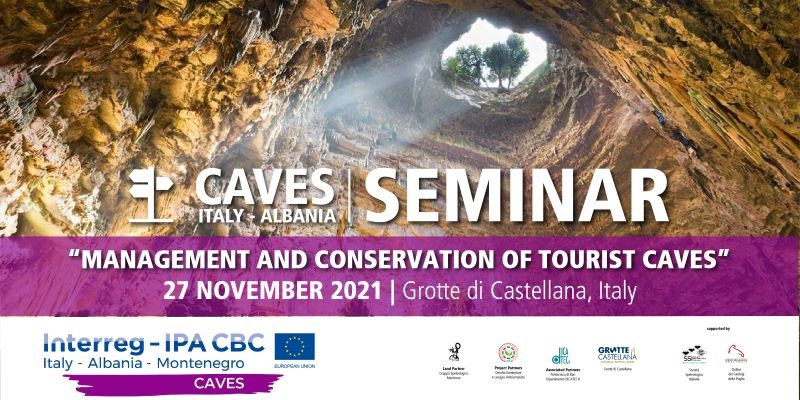 CAVES seminar "Management and conservation of tourist caves" on 27 November
Overview
CAVES is a project of the Martinese Speleological Group (GSM) and intends to promote sustainable tourism by creating a network between the Apulian tourist caves and the Albanian and Montenegrin ones.
The project is financed by the Interreg IPA CBC Italy-Albania-Montenegro, and it involves not only the GSM, but also the Albanian partner Qendra Kombetare e Levizjes Ambientaliste and Dicatech from the Polytechnic of Bari. The project also enjoys the patronage of the Italian Speleological Society.
CAVES - SEMINAR "Management and conservation of tourist caves" is the final stage of Caves, which follows the workshop held in Martina Franca and Crispiano and the B2B held in Tirana.
The seminar will be held on 27 November 2021 at the Caves of Castellana – Castellana Grotte (BA), and aims to exchange best practices and create a network between project partners, public authorities, tourism operators and experts in the field from the regions involved in the program.
This exchange will make it possible to better target future policies on caves, tourist ones and others.
The seminar is organized by the Lead Partner Gruppo Speleologico Martinese in collaboration with the Polytechnic of Bari - Dicatech and the Grotte di Castellana s.r.l., in order to promote a new cross-border strategy for the promotion of speleological tourism.
The activity is addressed to a maximum of 100 participants with free access, upon reservation.
Download the agenda.