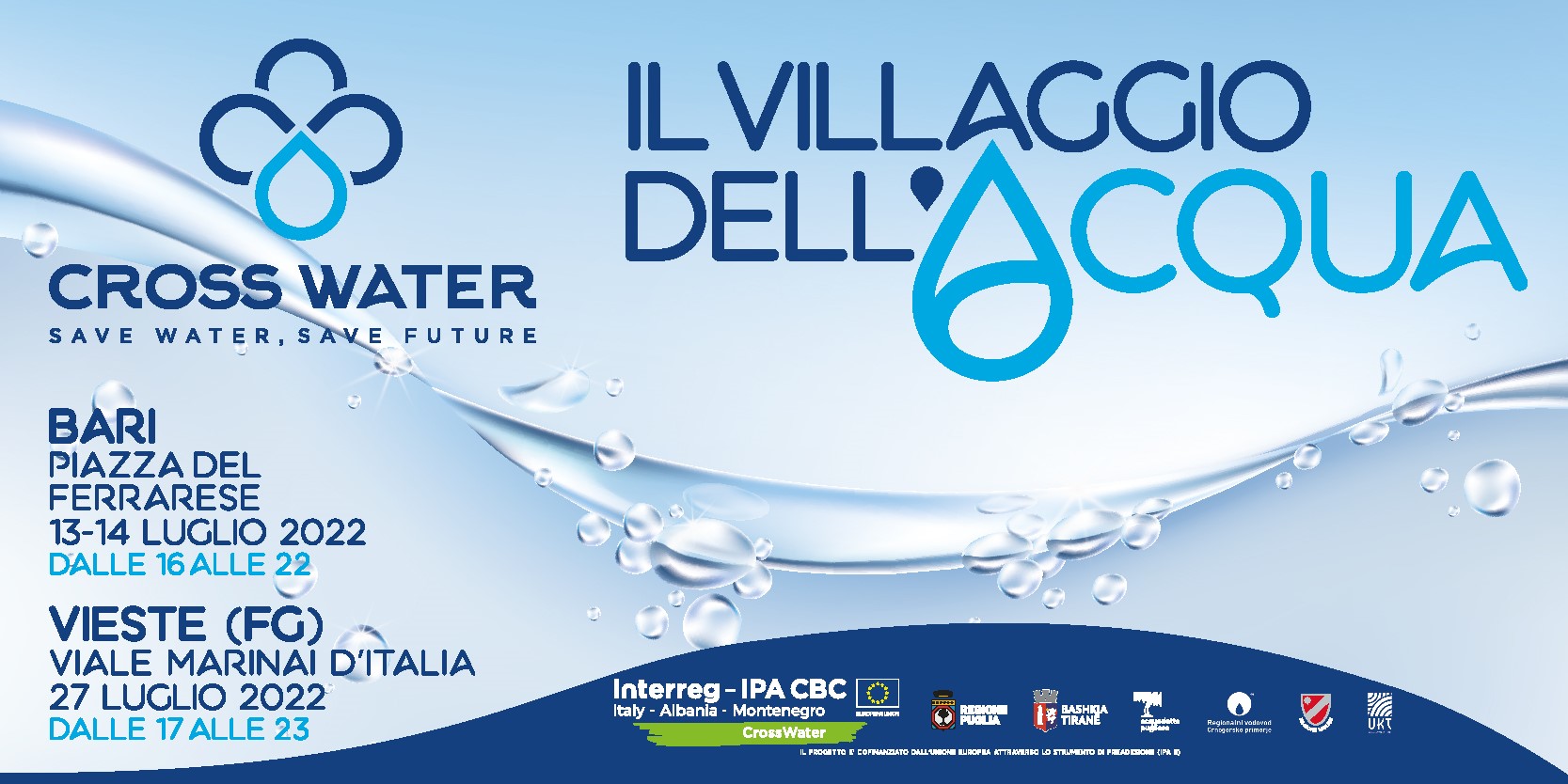 CrossWater Villages in Bari and Vieste on 13 and 14 July
Overview
CrossWater project arrives in the Apulian squares with the Water Village, scheduled for today and tomorrow, 13th and 14th July, from 4 p.m. to 10 p.m. in Piazza del Ferrarese in Bari and for 27th July from 5 p.m. to 11 p.m. in Viale Marinai d'Italia in Vieste. Event's goal: sensitizing citizens and tourists to the conscious use of the water resource. Four hundred square meters village for experience games, workshops for children, flashmob, quiz, gadgets and TV live.
The inauguration with the cutting of the inaugural ribbon by the authorities and institutions is set today at 6.45pm.
In a highly visible location, a few meters from the Adriatic sea that connects every project partner, a team of trainers and communicators, coordinated by a physicist expert in didactics, will hold workshops to learn about the properties of water and disseminate good practices. protection, entirely dedicated to children. On the giant posters of "The Goose Game in the Water" and "The Water Bell", children will compete on the theme of saving water, putting their knowledge and skills into play to win the eco-gadgets kits in line with the campaign against waste and in favor of water reuse.
There are also activities for the adult public. The images of the village and the interviews with authorities and experts on the subject of water will be broadcast from 7 pm to 9 pm on the web-TV TVA of the project partner Acquedotto Pugliese in live streaming from the mobile studio specially set up in the Water Village. The Italian and Albanian videos made as part of the project in recent months will be screened in a loop. Finally, fifteen exhibition panels will describe the project in Italian and English, deepening the objectives, activities, results achieved and pilot projects for each partner.
More info about the project at this link.