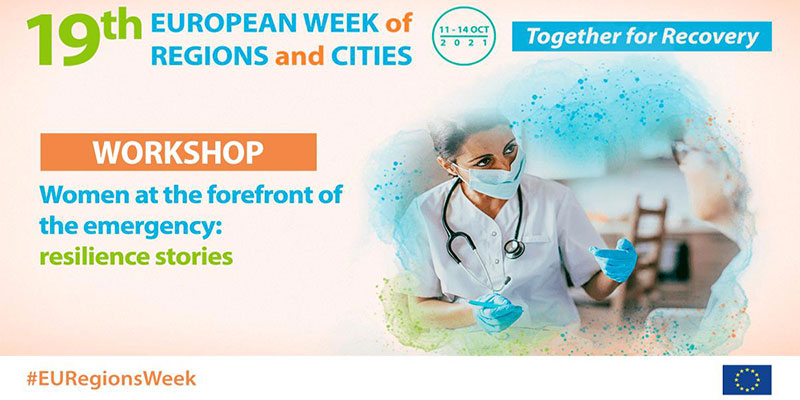 #EURegionsWeek / Women at the forefront of the emergency: resilience stories
Overview
A joint event organized in the framework of the European Week of Regions 2021 by Puglia Region, in partnership with Interreg IPA CBC Italy-Albania-Montenegro, Interreg V-A Greece-Italy, ENI CBC MED, the Municipality of Tirana, and the Regional Council of Lezha.
Listen to the stories of women directly involved in civil protection and resilience activities, who will speak about their experience in emergency management. Watch videos from projects fostering cooperation among civil protection organisations, and resilience and recovery situations in which women are also the protagonists. 
The main target groups are young people and civil society, as the final aim is to contribute to a change in mentality and raise awareness of women's value and potential to create a better world.
Among the testimonies, that of our project  FILA which  in the face of the pandemic quickly adapted and used its 3D printer to produce protective equipment for essential medical and economic staff, and that of our project 3 WATCH-OUT,  engaged in civil protection and risk prevention actions.
Register HERE. 
Click HERE to join the live session on Zoom.
Mrs Loredana Capone - Head of Apulian Regional Parliament
Women at the forefront of the emergency: resilience stories
Moderator: Mrs Carmela Sfregola (Interreg Greece-Italy); Speakers: Mrs Chiara Paniccia (Italian Civil Protection Department), Mrs Silvana Pergjegjaj (Municipality of Vau Dejes), Mrs Nicoletta Resta (University of Bari). Q&A
Moderator: Mrs Ileana Inglese (Interreg Italy-Albania-Montenegro); Interviews: Mr Alessandro Delli Noci (Puglia Region), Mr Djoridje Brkuljan (FILA project), Mrs Monica Olmos (Tex-Med Alliances project), Mrs Giusi Pastoren (3 Watch-Out project)