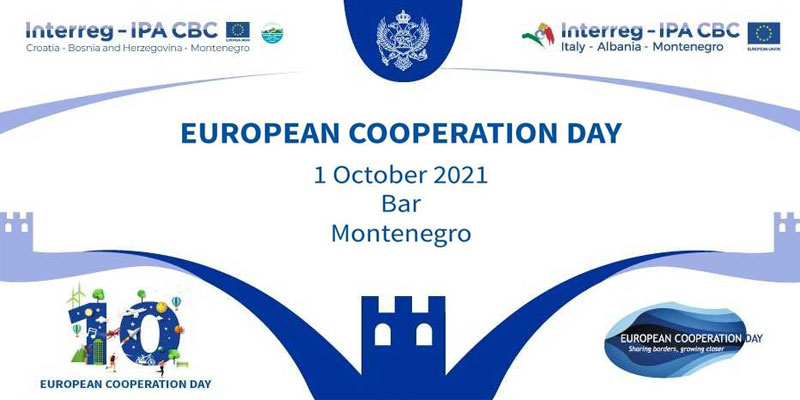 European Cooperation Day 2021
Overview
A special tribute to the 10th anniversary of European Cooperation Day, to engage citizens  and discuss  about the values of cooperation.
The event is organized by the Government of Montenegro - European Integration Office, in collaboration with Interreg  Croatia-Bosnia and  Herzegovina-Montenegro, and Interreg IPA
CBC Italy-Albania-Montenegro Programmes. 
Morning activities include art workshops with students of a primary school, project visits and institutional meetings. In the evening there will be a ceremony at King Nikola's Palace, the awarding of art competition winners, and the screening of promotional films on EU funded projects. Finally, live entertainment. 
JOIN US! Participation is free.
Art workshop with students of Primary School ''Mrkojevići'' – Olive orchard, the Old Town Bar
Visit to the FORTITUDE project in the Old Town Bar
Meeting between the Chief Negotiator Ms. Zorka Kordić and the President of the Municipality of Bar Mr. Dušan Raičević
Handover ceremony of school equipment donation in the Primary School ''Mrkojevići'', Bar
Chief Negotiator's discussion with school children, Media statements 
Chief Negotiator of Montenegro Ms. Zorka Kordić, Head of the Delegation of the European Union to Montenegro, Ms. Oana Cristina Popa, Representative of the Ministry of Regional Development and EU Funds of the Republic of Croatia – Managing Authority, President of the Municipality of Bar, Mr. Dušan Raičević
Presenting awards to art competition winners
Promotional films on EU funded projects implemented at the territory of the Municipality of Bar