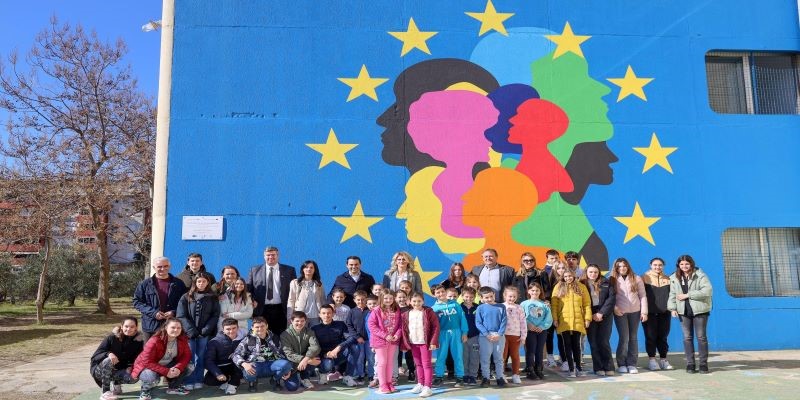 IT-AL-ME, School mural in Bar stands as a symbol of European unity and diversity
Overview
A vibrant mural dedicated to European territorial cooperation was inaugurated last week  in the Yugoslavia Primary School in Bar by State Secretary in the Ministry of European Affairs of Montenegro Milena Žižić, and Mayor of Bar Dušan Raičević.  
The mural, which features people from various backgrounds hugging each other within a circle of golden stars, was painted on the school outdoor wall with the support of two EU-funded cross-border cooperation programmes: Interreg IPA CBC Croatia – Bosnia and Herzegovina – Montenegro 2014-2020 and Interreg IPA CBC Italy – Albania – Montenegro 2014-2020. 
Commissioned by the Ministry of European Affairs of Montenegro, the colourful artwork was designed by Kunstler artist group led by Danijela Darmanović Mahmutović. 
Speaking about the symbolic meaning of the mural, Žižić pointed out that this piece of art sends a powerful message in line with the official motto of the European Union "United in diversity".
"The European Union is a community of different nations, traditions and cultures. It is therefore of utmost importance to teach children to appreciate diversity and ensure they grow up in such an environment", said Žižić.
According to her, Montenegro has been using pre-accession EU funds for more than 15 years to collaborate with its neighbours through various cross-border cooperation programmes.
"These programmes have gained particular prominence in Bar, where institutions and organizations have been implementing numerous projects in collaboration with partners from the neighbourhood, with the aim of providing citizens with a better quality of life," added Žižić.
Dušan Raičević, the Mayor of Bar, said that the Municipality of Bar makes every effort to bring the benefits of the European Union closer to all young people in the town through cross-border cooperation.
"I take this opportunity to thank the Ministry of European Affairs for its continuous support, which has resulted in a large number of projects that have been implemented in our municipality with EU pre-accession funds. The local administration, which has now been widely recognized as a successful beneficiary of these funds, will strive to implement such international projects in the future as well with a view to improving the quality of life for all citizens of Bar", said Raičević.
Following the inauguration of the mural, the delegation of the Ministry of European Affairs delivered an interactive lecture about the European Union for pupils attending Yugoslavia Primary School.
Watch the interview with Milena Žižić, State Secretary - Ministry of European Affairs of Montenegro, and look at the pictures:  
pupils during the lecture;
plaque of the event.