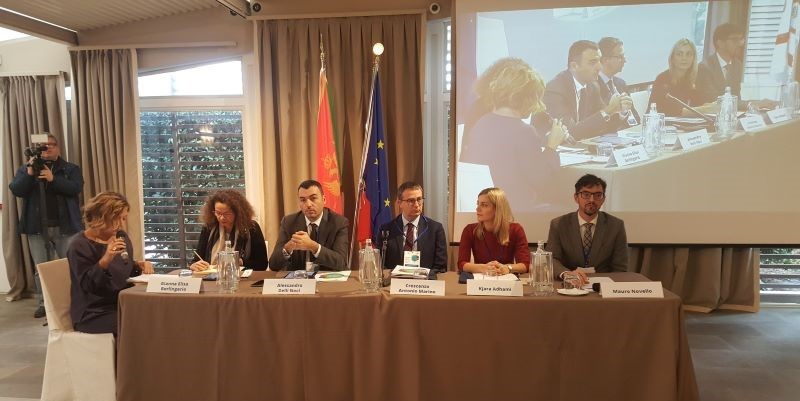 Interreg IPA South Adriatic at the starting line: First Call coming soon!
Overview
Great participation, today, at the launch event of the new Interreg IPA South Adriatic 2021-27 Programme, which renews cooperation between Puglia, Molise, Albania and Montenegro. The programme, managed by Puglia Region, will continue to finance projects between Italian, Albanian and Montenegrin public and non-profit organisations, focused on the smart, green, inclusive and digital growth of the territories that share the common border in the southern Adriatic.
During the launch event, representatives of the three countries, the European Commission and the Managing Authority discussed the strategic importance of the programme for cross-border areas and provided guidelines for participation in the forthcoming first call for projects. A networking session offered also the opportunity for exchange of ideas between participants, and partner search.
"The new South Adriatic Programme - declared the Regional Minister for economic development, Alessandro Delli Noci - is the result of an intense work started in 2019, carried out by the programme partners, with guidance of the Managing Authority and the Joint Secretariat, which I thank. Like all Interreg programmes, the South Adriatic assumes that there are great challenges and common potentials for the countries involved which, far beyond national borders, could be better exploited with joint actions. We will focus in particular on the creation of new professionals in strategic sectors such as the blue and green economy, including agri-food and fisheries, mechatronics, aerospace, the textile-footwear sector, and on the development of new digital skills. This will allow many young people, and not only, to stay in the programme areas, rather than seek their fortune in other parts of Europe and the world."
"With a total budget of 81 million euros – explained Crescenzo Antonio Marino, Managing Authority – we will continue to strengthen collaboration between countries on specific issues. We will also pay great attention to administrative simplification and to the pre-accession process of Albania and Montenegro to the European Union."
The first call for projects - soon to be published - has a budget of 5 million euros, and will finance small-scale projects, i.e. up to 200 thousand euros, implemented exclusively with simplified costs and focused on the capitalisation of results and successful experiences.
The project proposals must focus on 5 thematic priorities: PMI, Environment, Transport, Inclusion, Governance. For each specific objective, candidates have to plan capitalisation actions, such as thematic masterclasses, peer reviews, demonstration activities, feasibility studies and more. 
The call will be open for 90 calendar days from the day of publication in the Official Bulletin of the Puglia Region and will be announced on the programme website https://www.italy-albania-montenegro.eu/.
Download the presentations of the event HERE, and take a look at the photo-gallery on our Facebook page.