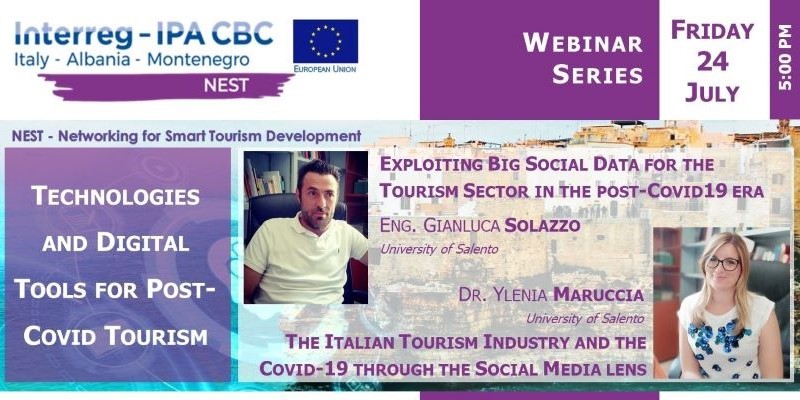 NEST, Webinar Series on 'Exploiting Big Social Data for the Tourism Sector in the post-Covid19 era'
Overview
The last NEST webinar of the "Technologies and Digital Tools for Post-Covid Tourism" series took place on 24th July and saw the participation of Eng. Gianluca Solazzo and PhD Ylenia Maruccia, from the University of Salento. 
The webinar focused on the topic of "Big Social Data for the tourism sector in the post-Covid19 era" and how to exploit social networks to improve both destination management and development as well as businesses competitiveness.  
Mr Solazzo illustrated how Social Big Data, namely data generated and shared on social media and web 2.0 platforms, are especially relevant for knowledge intensive sectors, such as tourism. All knowledge flows that are generated on social networks and platforms represent an unprecedented opportunity for tourism firms to collect relevant and valuable insights on the behaviours, attitudes and desires of their customers and improve companies' decision-making.
By developing knowledge-intensive services supported by the social networks, tourism firms enable digital tourism experiences and tourists' involvement in the co-creation and management of the knowledge about destinations. Moreover, by feeding social big data in their communication strategies, they get to create personalised marketing campaigns and improve customer satisfaction. 
Mr Solazzo and Ms Maruccia then analysed how the Italian Tourism Industry can respond to the Covid-19 crisis by taking step from the analysis of public debates on social media and user generated content. Latent Dirichlet Allocation (LDA), Sentiment analysis and Network analysis were pointed out as methods for interpreting and classifying data. Following the analysis of social big data, governments can identify interventions to support the tourism sector and promote destinations during the Covid-19 crisis, while guaranteeing the health and safety of tourists. 
To re-watch the webinar, visit the dedicated link on the NEST Facebook page.