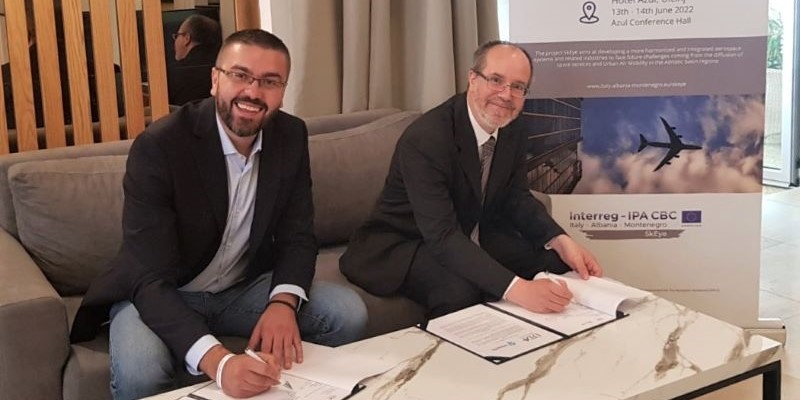 SkEye project, Final Conference in Montenegro
Overview
The first of the two Final Conferences of the SkEye project under the theme "Smart and Sustainable Air Transport in the South Adriatic" were successfully organized by the Innovation and Entrepreneurship Center Technopolis on 13 and 14 June 2022 in Ulcinj, Montenegro, with the support of the partners Distretto Tecnologico Aerospaziale and the Albanian Civil Aviation Authority. 
The event kicked-off with the social dinner, giving the opportunity to the present innovators, start-ups, small and medium enterprises, researchers, local and national institutions to get to know each other in order to have more productive work on the following day. On the second day, the Conference was officially opened by Ms. Biljana Scepanovic, the Ministress of Science and Technology of Montenegro, who expressed the readiness of the Ministry to enable continuous support and strengthening of the research and innovation programs, through providing favorable environment for the development of S3 projects and higher investment in research and innovation. 
Mr. Vladan Draskovic, commercial director of Airports of Montenegro, associated partner on the SkEye project, spoke about future development plans of the air mobility infrastructure with specific focus on plans for Tivat airport. Mr. Đorđije Malovic, executive director of IEC Tehnopolis expressed the willingness for cooperation in future initiatives for the development of innovation in the field of smart and sustainable air transport.
Throughout the very productive day, project partners presented all the activities and results of the SkEye project, with focus on the current situation in the field of urban air mobility and advanced air mobility in South Adriatic. This was the introduction to the session dedicated to the future steps in this field, which was started with the presentation of the Montenegro Space Research projects "Lucha", "CubeSat" and "Yugoslavia", the first space initiatives coming from Montenegro. This was followed by the presentation of recommendations for the development of Montenegrin aerospace ecosystem based on the experience of the Apulia, which is now one the most advanced ecosystems in Europe. Based on these recommendations, Innovation and Entrepreneurship Center Technopolis and Distretto Tecnologico Aerospaziale signed the Memorandum of Understanding for future cooperation in this field.
The SkEye Final Conference was organized in the framework of project "Strengthening Key aErospace technology for smart transport monitoring systEms – SkEye" which is co-financed by the European Union through the Interreg IPA CBC Italy - Albania – Montenegro Programme.
For more information, please contact: Antonio Zilli, Antonio.zilli[at]dtascarl.it; Aida Pipiko, aida.pipiko[at]acaa.gov.al; Miljana Peković, miljana[at]tehnopolis.me