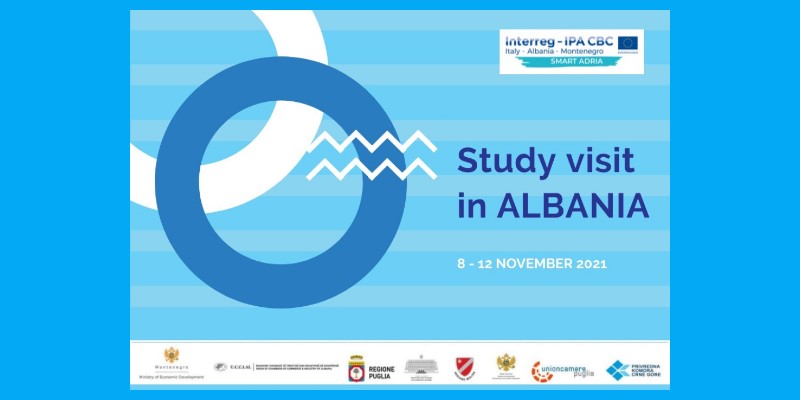 SMART ADRIA Blue Growth, from 8 to 12 November study visit in Albania
Overview
The study visit of the SMART ADRIA Blue Growth project, organized by the Union of the Chambers of Commerce and Industry in Albania and the Ministry of Europe and Foreign Affairs, will take place from 8th to 12th November in Albania.
Four days of intense activities for the delegations from Montenegro, Puglia and Molise that will be engaged in a tour that will touch Tirana, Durres and Vlora, with visits to the places of the best practices selected within the project.
The tour will begin on Monday 8, with a stop at the Duka winery vineyard, in the hills of Hishmi, which represents a model in the field of offering quality services to promote the sustainable development of Blue economy tourism in the South Adriatic area.
Two important opportunities for in-depth analysis and discussion are also planned: on 9 November delegates will move to Durres to take part in the Forum "Innovation as a driver of efficiency for maritime transport and interconnection - a regional perspective", where they will discuss the potential of technological innovation to improve the efficiency of maritime transport, a sector with numerous strategic investments located in the ports of Durres and Shëngjin. The event, which will take place from 11am to 7pm, will bring together representatives of the Ministry of Europe and Foreign Affairs in Albania, the Union of Chambers of Commerce and Industry in Albania, local authorities, the Ministry of Economic Development in Montenegro, Puglia and Molise Regions, business representatives and civil society organizations.
This will be followed by visits to the port of Durres, for the presentation of strategic projects for port infrastructure and support to the sector, and to the headquarters of the Koral company, which deals with fishing and processing of fish products.
The second focus of discussion will be on research activities related to the blue economy, regional cooperation and sustainable development, which will be presented on 10 November in Tirana during the "Researchers' Night".
On the last day, the delegates from Puglia and Molise will visit the Alb-Adriatico fish farm in the Bay of Ragusa, which supplies sea bass and other fish products that are in great demand on local and regional markets, and an artisanal factory producing canned sardines. The tour will then continue with an excursion to the island of Zvernec and the Byzantine church dedicated to St. Mary, ending with a meeting with the lagoon fishermen's cooperative.
Download the agenda.