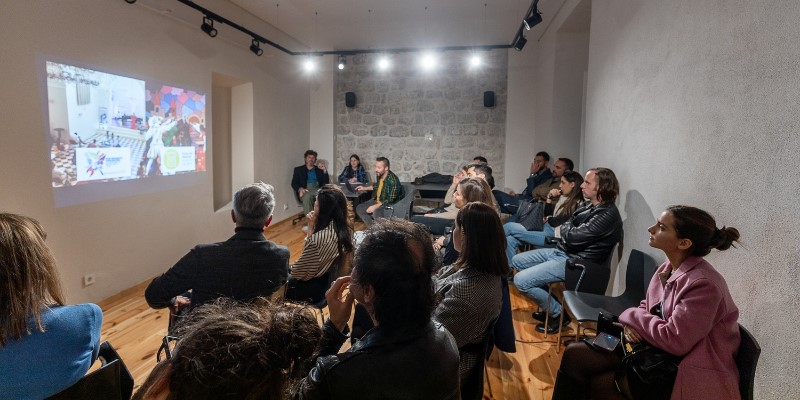 3C project, Cross- Border Workshop in Kotor from 21 to 27 November
Overview
The Ministry of Culture and Media of Montenegro has organized an artistic residency in the Creative Hub in Kotor with the aim to foster the development of innovative projects from the field of creative industries and networking of Italian, Albanian and Montenegrin artists, who have an opportunity to exchange experiences and build their own capacities.
The event is being organized from 21 to 27 November 2022 in the framework of the project 3C – Cross border Exchange for the Development of Cultural and Creative Industries, where the Ministry of Culture and Media of Montenegro is the Lead partner.
Director General for Creative Industries in the Ministry of Culture and Media, Igor Rakcevic, emphasized that building new and fostering existing institutional and infrastructural capacities for the support and promotion of cultural and creative industries and connected areas represent the principle course for the development of creative sector. He also pointed out that the intention of the Ministry of Culture and Media is to provide sustainable institutional framework for the established creative hubs by fostering administrative capacities, cooperation with local community and integration of cultural and creative industries in all social activities.
The participants at the workshops are 15 artists selected based on the public call in all three countries who will, in line with their mentors, develop products from the field of illustrations, video art, 3D mapping, contemporary theatre expression with the reflection of culture of memory of the local community, local musical expression in contemporary interpretation, contemporary VR video games concepts and fashion design.
The products that will be developed during the residency in Creative Hub in Kotor, as well as the ones created during the residencies in Italy and Albania that are planned for the beginning of 2023, will be presented during the exhibition that is planned for March/April 2023 in all three countries.
Have a look at the agenda to learn about daily activities.