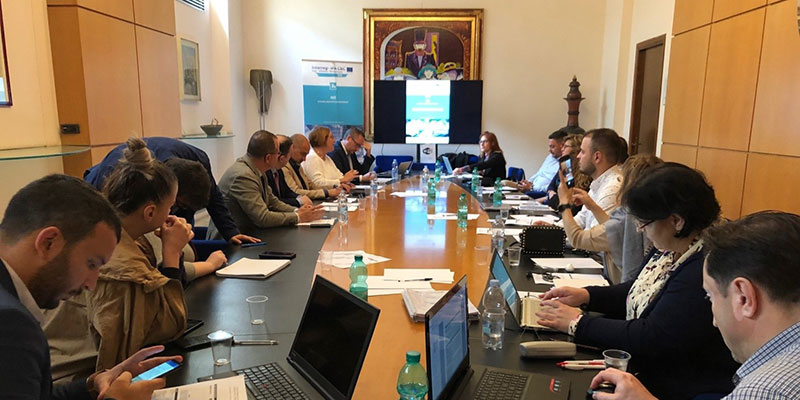 BRE, the Italian model of Business Registry exported to Albania and Montenegro
Overview
Exporting the best practices of the Italian Chamber of Commerce's Business Registry to Albania and Montenegro.  This is the reason behind BRE, Business Registry Empowerment, a project conceived by the Chamber of Commerce of Bari, which ranked first in Axis 1 of Interreg Italy - Albania - Montenegro 2014-2020.
In Albania and Montenegro the registers are not kept by the Chamber system, but by ministerial agencies similar to our Revenue Agency. The attribution of activity codes, the adherence to the European statistical system, the maintenance of databases, the issue of surveys and certificates, are all areas for improvement on which BRE is impacting.  
"The idea is simple - explains Angela Partipilo, Secretary General of the Chamber of Commerce of Bari - explaining our legislative, IT, organizational and promotional model to those countries that are starting a political debate about the reform of the Business Registry. With BRE, Albania and Montenegro are supported by those who have already done that work. In accordance with the cohesion strategy of the European Union, we have decided to put a common factor in a system that works, proposing it as a benchmark to those who want to strengthen their own.
In order to implement it, the Bari institution, partner as well as creator of the project itself together with the Chamber of Commerce and Industry of Tirana and that of the Economy of Montenegro, the Ministry of Economic Development of Albania and Tehnopolis (Science and Technology Park of Niksic), has inaugurated a model that provides for a structured collaboration with Unioncamere Puglia, which supports it as an implementing body.
The Italian Business Register, based on Law 580 of 1993, is a public register, managed and updated by a public body (Chambers of Commerce), which guarantees the truthfulness of data and legal certainty in relations between companies.  It, therefore, helps to combat fraud in commercial relations, operating in real time and using advanced technologies.
Another result of the project will be the creation of an experimental platform. It will be a database inspired by the Italian one, with all its information; in it, Albanian and Montenegrin partners will upload a sample of 100 companies, with all the information contained in the system, in order to illustrate to the political decision-maker the importance of a reform that imitates the Italian model, one of the most effective and efficient in the world.