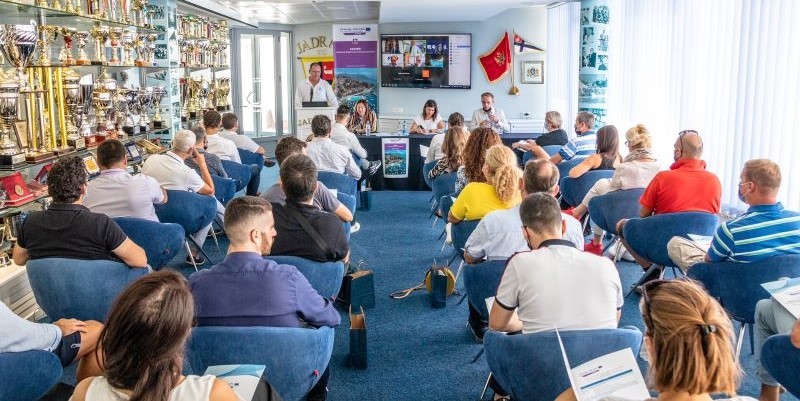 CASTER Project, workshop in Montenegro on innovative strategies for sailing tourism
Overview
On Saturday 11 September 2021, the third event of the CASTER project, funded by the European Union through the Interreg IPA CBC Italy-Albania-Montenegro Programme, took place in Herceg Novi, Montenegro.
The CASTER project, promoted by the Municipality of Santeramo in Colle, leader of the international partnership, is aimed at developing the sports tourism sector between the three countries bordering the Lower Adriatic. After the technical seminar in Santeramo in Colle, focused on the new cross-border cycling itineraries, the event of 11 September in Montenegro - focused on sailing tourism - took place at the Trophy Room of the Jadran Sports Club in Herceg Novi, in the splendid landscape setting of the Bay of Kotor.
Fabrizio Baldassarre, Mayor of Santeramo in Colle, addressed the issue of the role of local authorities in developing the great potential that sports tourism offers to the development of the local economy: "Our city is playing a central role in promoting cycle tourism; by promoting the CASTER project we intended not only to strengthen our commitment, but also to share the opportunities of sports tourism both with other disciplines, such as in the case of sailing, and with the territories of other countries bordering the shores of the Lower Adriatic ". The position of Mayor Baldassarre was strongly appreciated by Ivan Otović, President of the Municipal Council of Herceg Novi, who thanked the Municipality of Santeramo in Colle for having promoted this European project.
Alberto La Tegola, President of the VIII Zone of the FIV - Italian Sailing Federation, coordinated the technical session of the seminar, launching innovative ideas that met with the unanimous approval of the approximately 60 Montenegrin and Albanian technicians and experts participating in the seminar. "We have a precious heritage of decades of experience in the design and management of international sailing events, directed to Croatia, Montenegro, Albania and Greece; now, while reconfirming the commitment to our historical initiatives, we must design events focused on the new sailing disciplines, which allow you to experiment with new experiences based on the possibilities of hovering in the air on the waves, with light and manageable equipment. "
"I am grateful to the initiative of Mayor Baldassarre, who with this European project offers visibility to our activities even beyond the borders of Montenegro", said Miloš Mračević, Director of the Jadran Sports Club, partner of the CASTER project. "With this European project we will launch new sailing tourism itineraries together with our partners from Italy and Albania".
G. Massimo Lupis, Project Manager of CASTER and Coordinator of the Internationalization Task Force of ASSET, the Strategic Agency of the Puglia Region for the Ecosustainable Development of the Territory, concluded: "Monday 20 September, at the Circolo della Vela in Bari, we will propose to a selection of Tour Operators the new and innovative ideas proposed during the project by the technicians of sailing sports and cycling tourism, in view of their inclusion in the international circuits of sports tourism."