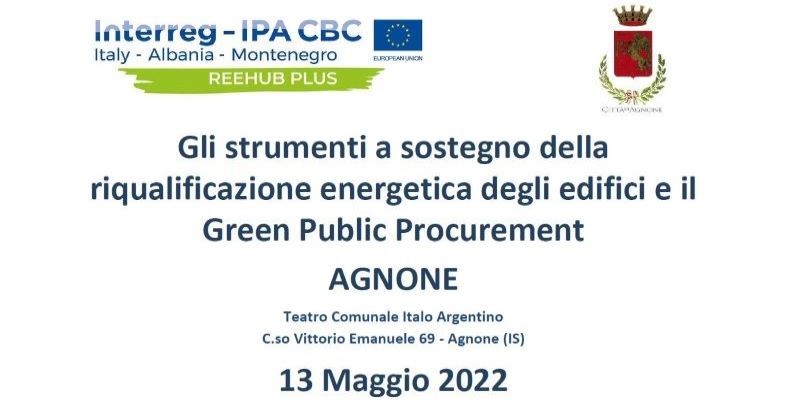 REEHUB PLUS, seminar on energy requalification of buildings on 13 May in Agnone
Overview
In the framework of Reehub Plus project on 13 May 2022 the Municipality of Agnone will organize the seminar "Tools to support the energy requalification of buildings and the Green Public Procurement". The event will take place in Agnone, Teatro Comunale Italo Argentino, Corso Vittorio Emanuele 69. 
This activity will be dedicated to the topic of energy efficiency and aims to illustrate the good practices carried out by the REEHUB PLUS cooperation project in the field of energy requalification and energy audit of buildings. 
The activity explores the theme of Green Public Procurement (GPP), a topic of relevance both for public bodies and for professionals and companies that work in close contact with the Public Administration. The issue of green procurement will be further discussed by the regulatory and jurisprudential point of view, in a national and European context, with the presentation of good practices implemented, advice and practical suggestions. 
Participation is free. Download the agenda and register here.