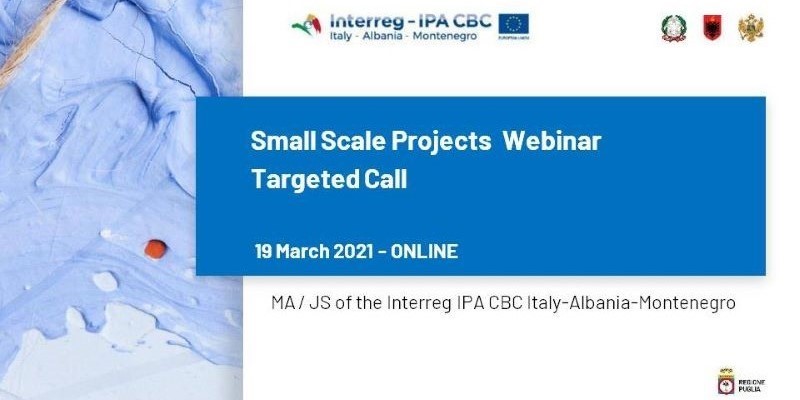 Training for Small Scale Projects, webinar on 19 March 2021
Overview
An online seminar wil be held on 19 March 2021 (h. 11:00 / 13:00), organized by the Joint Secretariat and the Managing Authority, and targeted to all project partners of the Small Scale Projects, funded under the Targeted Call for Proposals. 
The main objective of the webinar is to inform the partners of the Small Scale Projects about the main rules and procedures of the Interreg IPA CBC Italy-Albania-Montenegro programme. Participants will have the opportunity to make questions and clarify specific aspects. 
In particular, the key programme requirements will be discussed, in relation to:
Correct delivery of the lump sum outputs;
Reporting and project changes;
Management verifications and payments.
Please get familiar with the main programme rules and procedures at: https://www.italy-albania-montenegro.eu/tools/programme-manual  in particular Annex 4.1.3 you may find here.
The link to the virtual room will be sent by e-mail upon registration, which is compulsory at: https://forms.gle/at8pwYzMn69vjLpk9  
Check the event page for more information and the agenda.