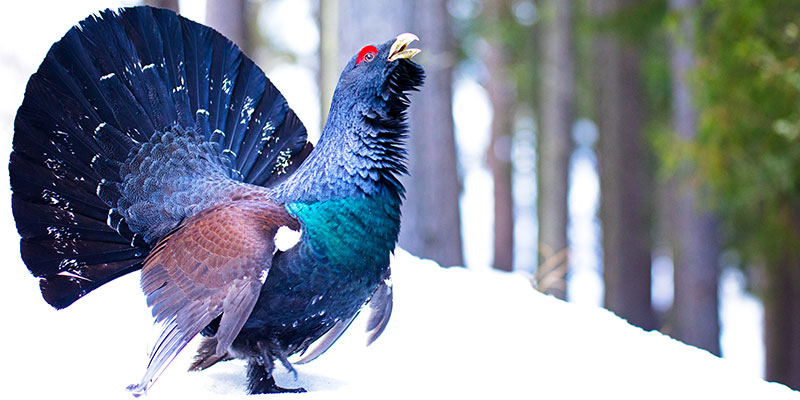 LASPEH, successful Info Day in Berat on biodiversity safeguard
Overview
The Info Day of the project LASPEH, Low Adriatic Species and Habitat, organised by the Albanian partner National Agency of Protected Areas (NAPA), was held on 16 November in Berat, in Albania. In particular, the Info Day was focused on the conservation plan and concrete actions to safeguard Western Capercaillie (Tetrao Urogallus), a threatened species growing in the Albanian areas of Mali Tomor, Dardhë, Kapinov. 
Thanks to LASPEH, concrete actions will be implemented in order to improve the level of protection of Tetrao Urogallus and its habitat. First, the afforestation of the Albanian territories involved: Mali Tomor, Dardhë and Kapinov (the natural "home" of Tetrao Urogallus); as a matter of fact, in this area, the number of these animals has decreased massively during the last 20 years; only after a hunting moratorium, the presence of this species restarted growing. 
Secondly, several education campaigns will be conducted with students and local community in order to raise awareness on the protected areas. Furthermore, the existing paths to go on site will be "revitalized", for example with the construction of an observation point, in order to increase tourists' interest in protected areas and local communities.
In general, LASPEH project, financed under Priority Axis 3 (Environment protection, risk management and low carbon strategy) of the Interreg IPA CBC Italy- Albania-Montenegro Programme, aims to promote and support the biodiversity safeguard reducing the contraction of biological diversities. In other words, LASPEH faces the loss of biodiversity by defining a common strategy to preserve the natural heritage and the landscape in the Low Adriatic basin.
The Management Consortium of Regional Natural Park "Coastal Dunes from Torre Canne to Torre San Leonardo" is the lead beneficiary of this project in cooperation with partners from Albania (National Agency of Protected Areas), Montenegro (Public Enterprise of National Parks of Montenegro) and three Italian partners (Management Body of the Regional Natural Reserves of the Eastern Coast of Taranto, Municipality of Ugento and Municipality of Guardiaregia).