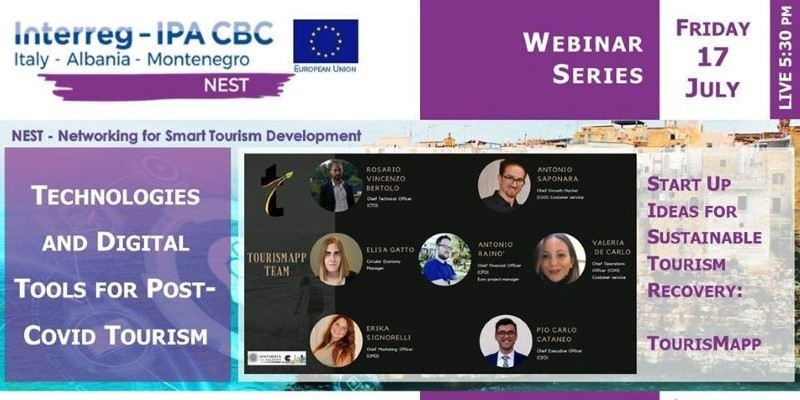 NEST, Webinar Series on 'Start-up ideas for Sustainable Tourism Recovery: TourisMapp'
Overview
In its sixth webinar on "Technologies and digital tools for post-Covid Tourism", the NEST project has hosted the team of "TourisMapp", a start-up Idea that was developed by some students of the University of Salento within the CLab@Salento - Contamination Lab. 
CLab@Salento – Contamination Lab is an initiative financed by the Italian Ministry of Education and Research with the goal of promoting a culture of entrepreneurship, creativity and sustainability among students and help them launch innovative companies or introduce innovation in existing ones. 
In a pitching session held on 24th June at the end of the training, "TourisMapp" received a Special Mention from the NEST project as a promising business idea that seeks to develop sustainable tourism paths in an innovative and sustainable way. On 17th July, Professor Valentina Ndou invited the "TourisMapp" team to discuss their idea and explore its potentialities within the framework of the Covid-19 recovery.  
The young students introduced themselves and illustrated the path that led to the creation of their business idea. Within a period of six months, the team was created, studied the business idea and adapted it to the priorities of the United Nations 2030 Agenda for Sustainable Development and specifically to the promotion of sustainable tourism.
Under the slogan "Discover your route, share your eco-tribute!", the "TourisMapp" guides the choices of ecotourists by recommending sustainable accommodation facilities, promoting especially little-known and unspoiled places, and providing tips for a responsible and respectful behaviour. The "TourisMapp" will be released as a free app, while some consultancy services will be provided to tourist operators interested in acquiring environmental certifications and being listed in the app.
To know more about the story of the "TourisMapp" team, re-watch the webinar on the dedicated NEST Facebook page.