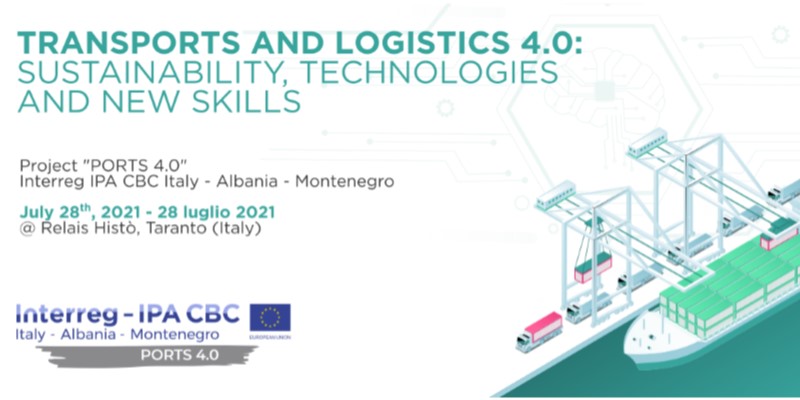 PORTS 4.0, Networking Event "Transports and Logistics 4.0" on 28 July in Taranto
Overview
On Thursday 28 July 2021, ITS Logistica Puglia organises the Conference "Transports and Logistics 4.0: sustainability, technologies and new skills", in the framework of the project "PORTS 4.0 - Partnership for the prOmotion of a maRiTime cross-border Strategy", funded by the Interreg Italy-Albania-Montenegro Programme. The event will be held in Taranto, hosted by Relais Histò.
The event is structured on three different working sessions animated, among others, by representatives of the University of Montenegro, the Albanian Institute of Transport as Project Partners, as well as by representatives of the Apulia Region, University of Salento, port authorities and major companies in the logistics and innovation sector.
The agenda foresees a first institutional working session, with Public Authorities speeches about scenarios in the logistic sector in the light of the Next Generation EU and the EU Green Deal, followed by a second session dedicated to case studies and experiences presented by important public and private players that have implemented the use of the 4.0 technologies in their activities, and a final session focused on the new skills required by the market in these sectors. 
"Transports and Logistics 4.0: sustainability, technologies and new skills" will also be an important opportunity to discuss, compare notes and consolidate the network in order to continue the work over the coming months, which will see the project partners engaged in activities that will eventually lead to the setup of a transnational cluster in the field of logistics to create a conducive and dynamic environment for maritime transport players to adapt in the best way to the digital revolution.
PORTS 4.0 aims at building up a solid network of public and private stakeholders in the field of logistics and maritime transport for smart and sustainable development in the programme area, based on new technologies derived from the Industry 4.0 concept. On this basis, this first project event will focus on the impacts of the new 4.0 technologies in terms of economic opportunities, competitiveness, sustainability and development of new skills in the Programme area. 
The event is accessible upon registration at the following link: https://forms.gle/ntpv3Fv4xtho9kQn8