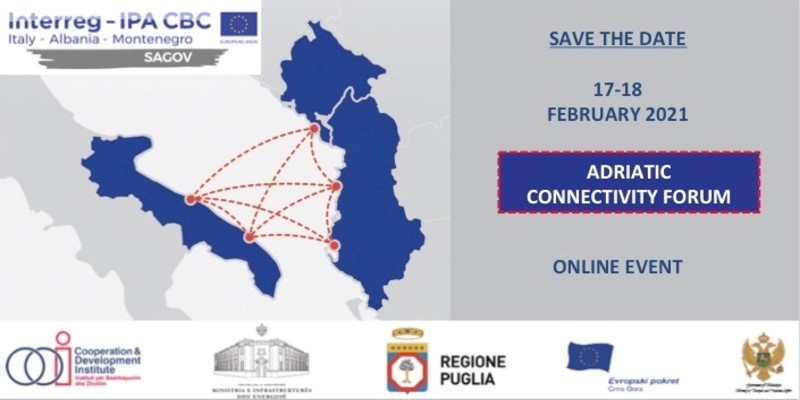 17-18 February 2021 - Adriatic Connectivity Forum - Agenda
Overview
From Wednesday 17 to Thursday 18 January 2021, the event entitled "Adriatic Connectivity Forum - promoting connectivity in South Adriatic Area", will take place exclusively online.
The event is organized by the Puglia Region in the framework of the SAGOV Project - South Adriatic Connectivity Governance, financed by the Interreg IPA CBC Italy-Albania-Montenegro 2014-2020 Programme.
On the opening day, the first panel, which will be coordinated and moderated by Cooperation and Development Institute (Lead Partner of Sagov Project), will be dedicated to the stragegic role of Connectivity Agenda in Western Balkans and the cooperation with EU, with a focus on policies and investment projects. The second panel will explore the theme of the multimodal Corridors system within the EU Strategy for the Adriatic – Ionian region (EUSAIR). 
The second and final day will be divided into three parts. The first panel, entitled "Talk with European Institutions – TEN-T", will be dedicated to the Adriatic–Ionian Corridor and the Orient– East / Med Core Network (Corridor VIII) in the framework of TEN-T revision process. The second panel, reserved to project partners, will focus on the SAGOV main results and the strategic role of cross-border cooperation for the transport sector. On the final panel, the role of south – adriatic ports in the global transport connectivity network. will be the subject of discussion.
Discover the agenda! 
For any further query, please write to us at: politiche.internazionali[at]regione.puglia.it.
Join this online event! 
For registration form, please click here.
 
In order to correctly participate to the event and to listen to the simultaneous interpretation (English/Italian/Albanian/Montenegrin) it is necessary to follow the following steps:
Download or update the Zoom PC/Mac software or mobile app
Connect to the event by clicking on this link
Enter the Passcode to access: FORUM