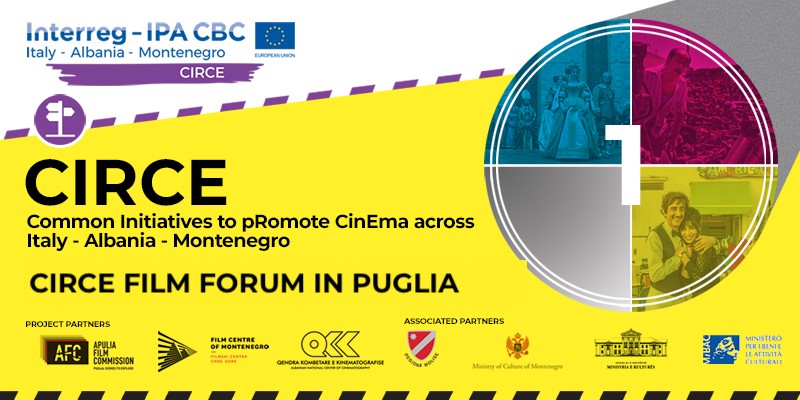 CIRCE Film Forum in Puglia from 12 to 14 December 2022
Overview
The activities of the project CIRCE PLUS, capitalizing the results of CIRCE "Common Initiatives to pRomote CinEma across Italy-Albania-Montenegro", will start in Puglia from 12 to 14 December 2022 with the Film Forum dedicated to audiovisual key players from Puglia, Molise, Albania and Montenegro. The activity is organised by Apulia Film Commission in the frame of Apulia Film Forum (AFF) - 13th edition, taking place in Brindisi in the same days.
Following the presentation of the AFF and its activities on 12 December afternoon in the Conference Room Gino Strada of Palazzo Granafei-Nervegna, the works will get to the heart on 13 and 14 December, when B2B meetings will take place always in the same premises. The objective of the CIRCE Film Forum is to foster the meeting and partnerships between producers, distributors, authors and directors coming from the Programme area and beyond. The activity will develop synergies to realize film projects in co-production and, at the same time, boost Puglia as a territory for shooting their films.
CIRCE PLUS was born from the capitalization of CIRCE, among the Interreg IPA CBC Italy-Albania-Montenegro projects at the top of the ranking list of the capitalization procedure launched in February 2022. The project, started in November 2022 and closing in April 2023, involves the Apulia Film Commission Foundation as lead partner and the Albanian National Centre of Cinematography, the Film Center of Montenegro and the Molise Region as partners. 
The project invests in the film industry as a strategic resource to stimulate the economy's growth of the involved territories. Particularly, the main objective is to improve the conditions for growth of the cultural and creative industries of the audiovisual sector through cross-border initiatives able, on the one hand, to strengthen the link between the participating regions and, on the other hand, to bring together key players in the creation of new creative productions.
In addition to the Film Forum in Puglia, five other events among conferences, workshops and B2B will be organized by partners in Molise, Albania and Montenegro in the following months, with the aim of enhancing the skills of operators in the audiovisual field and encouraging the development of new business opportunities in the creative sector through further consolidation of the network already developed with CIRCE. SMEs, producers, distributors, representatives of cinematographic centers and other operators of the sector coming from the Programme area will be protagonists and beneficiaries of the project activities.
Download the agenda of the event.