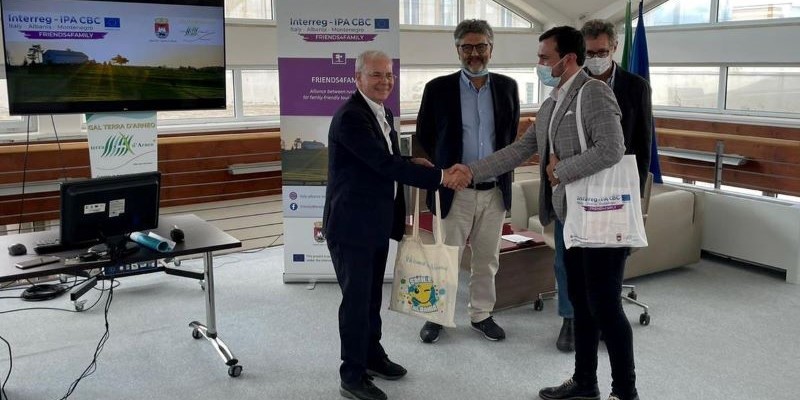 FRIENDS4FAMILY project, Final Conference in Puglia on 6 November
Overview
The first phase of the FRIENDS4FAMILY project - Alliance between rural areas for family-friendly tourist hospitality is at his final phase. 
The Final Conference will be held in Veglie (Puglia) on Saturday 6 November 2021, at the premises of the GAL Terra d'Arneo.
After the two appointments in Albania and the study visit and B2B meetings in Puglia, the Regional Council of Vlore (Lead Partner) and the LAG Terra d'Arneo (project partner) will present the results of the project that focused the attention of hospitality companies and the local stakeholders on the theme of family tourism and rural development. The goal is to create a brand of attention and a set of minimum quality standards for family tourism offer in Albania and in Puglia. 
The final conference will host a delegation from Albania composed by institutional representatives lead by the President of the Regional Council of Vlore, Mr. Ervis Mocka. Important institutional speakers from Puglia will take part to the event: Mr. Cristin Casili, Vice President of the Regional Council of Puglia, Mr. Alessandro Delli Noci, Councilor for Economic
Development and International Relations of Puglia Region, Mr. Maurizio Raeli, director of the CIHEAM Bari and Mr. Giovanni Serafino, local tour operator and tourism expert. The initiative will see also the participation of Mr. Francesco Mandoi, Liaison Magistrate between Italy and Albania, who will tell the historical friendship between the two countries.
The works will start at h. 9.30 am with the greetings of the Mayor of Veglie, Mr. Claudio Paladini, and the President of the LAG, Mr. Cosimo Durante.
The event can be followed live on the project's facebook page at: https://www.facebook.com/friends4familyproject