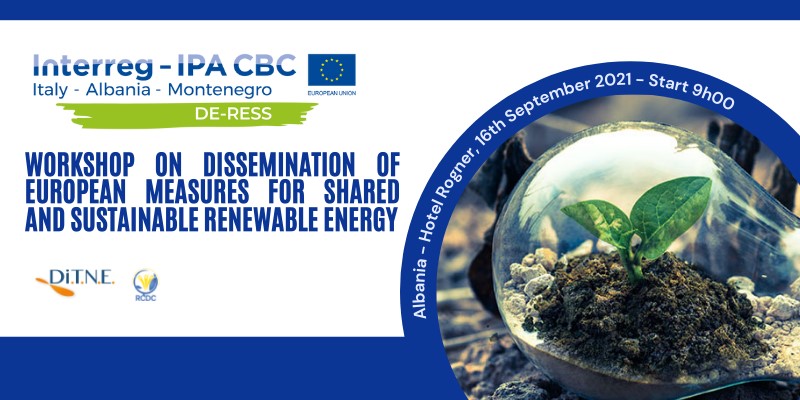 First workshop of DE-RESS small project on 16 September in Tirana
Overview
The small project DE-RESS - "Dissemination of the European measures for Renewable Energy Shared and Sustainable: analysis of a practical case" starts, funded for € 55,000.00 from the INTERREG IPA CBC Italy-Albania Montenegro 2014-2020.
The first workshop "Dissemination of European measures for shared and sustainable renewable energy", organized in the frame of DE-RESS small project, will be held on 16 September 2021 from 9:00 to 17:00 in Tirana in Albania at the Hotel Rogner.
The National Energy Technology District of Brindisi is the leader of DE-RESS in collaboration, on the Albanian side, with the Project Partner RCDC Association (Regional Center for Development and Cooperation).
The DE-RESS project, funded under Priority Axis 3 (Promoting innovative practices and tools to reduce carbon emissions and improve energy efficiency in the public sector) of the INTERREG IPA CBC Italy-Albania-Montenegro aims to promote the developing reality of the Energy Communities, able to self-generate part of the energy they consume (self-consumption). The specific objective of the workshop, in addition to the discussion with experts in the sector, is the presentation on European measures in the field of renewable energy and international agreements (Paris Agreement, Energy Union of the European Commission). The leader DiTNE, represented by Marcello Giangreco, will participate in the Albanian workshop presenting the case study of the Cooperative of Community, thanks to the participation of President Grazia Giovannetti.
The workshop in Albania will be attended by: Gjergi Simaku, Deputy of the Albanian Ministry of Infrastructure and Energy, Claudio Polignano, representative in Tirana of the International Political Coordination of the Puglia Region, Raimonda Bedo and Matilda Naco, Representatives of the RCDC Association, Marcello Giangreco, Representative of the National Technological Energy District,  Altin Marko, Director of the Department of the Albanian Energy Efficiency Agency, Teuta Thimjo, Representative of the Department of Renewable Energy and Natural Resources, Joli Delimeta, the company SOLARON, Entela Kaleshi, Coordinator of the Institute for Change in Albania and Grazia Giovannetti, President of the Cooperative Community of Melpignano. 
The second workshop, planned in the frame of DE-RESS small project, will be held in Puglia in Brindisi at Palazzo Guerrieri on 23 September 2021 while the Incoming Activity will be held on 24 September at the Cooperative Community of Melpignano planned for some economic operators specialized in the Energy Renewable Sector and several Representatives of Small Municipalities.
To follow all the news of the project and receive information to participate in the events, please follow the official project page https://www.italy-albania-montenegro.eu/deress and the Facebook page https://www.facebook.com/interregderess/ 
Download the agenda of the Albanian Workshop.