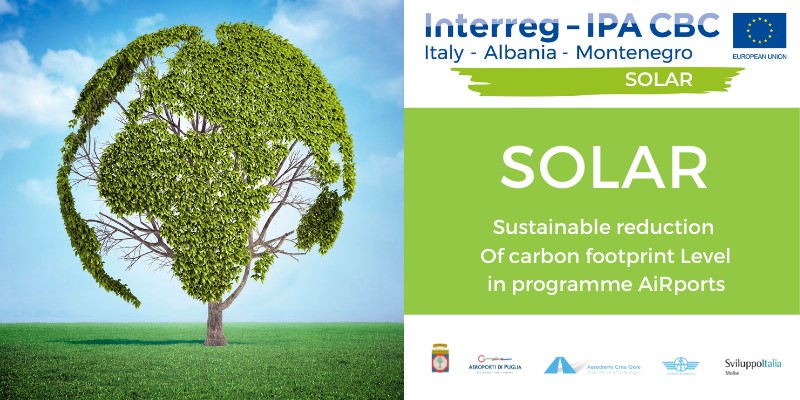 SOLAR, press conference and kick-off meeting on 3 March in Bari
Overview
On 3 March 2022, at 10.00 am, in the green hall of Puglia Airports (Business area, 2° floor) the press conference of the Transnational Cooperation Project "SOLAR - Sustainable reduction Of carbon footprint Level in program AiRports" will be hosted.
Speakers at the press conference: Anna Maurodinoia, Regional Councillor for Transport and Mobility, Vito Antonio Antonacci, Director of the Mobility Department and Antonio Maria Vasile, Vice President of Puglia Airports. 
Funded with 688,500.00 EUR by the Interreg IPA CBC Italy-Albania-Montenegro 2014-2020 Programme, SOLAR sees the Puglia Region, Mobility Department as Lead Partner, together with the partners: Puglia Airports; Montenegro airports; the Civil Aviation Authority of Albania and the Regional Development Agency of Molise - Sviluppo Italia Molise S.p.A. 
SOLAR project is financed on Axis 3 of the Programme: " Promote innovative practices and tools to reduce carbon emission and to improve energy efficiency" 
During the press conference it will be possible to focus on the project's objectives and main topics.
After the press conference, the first partnership meeting, in online mode, will be organised so that partners can discuss the start of the project and its activities. 
Download the agenda.