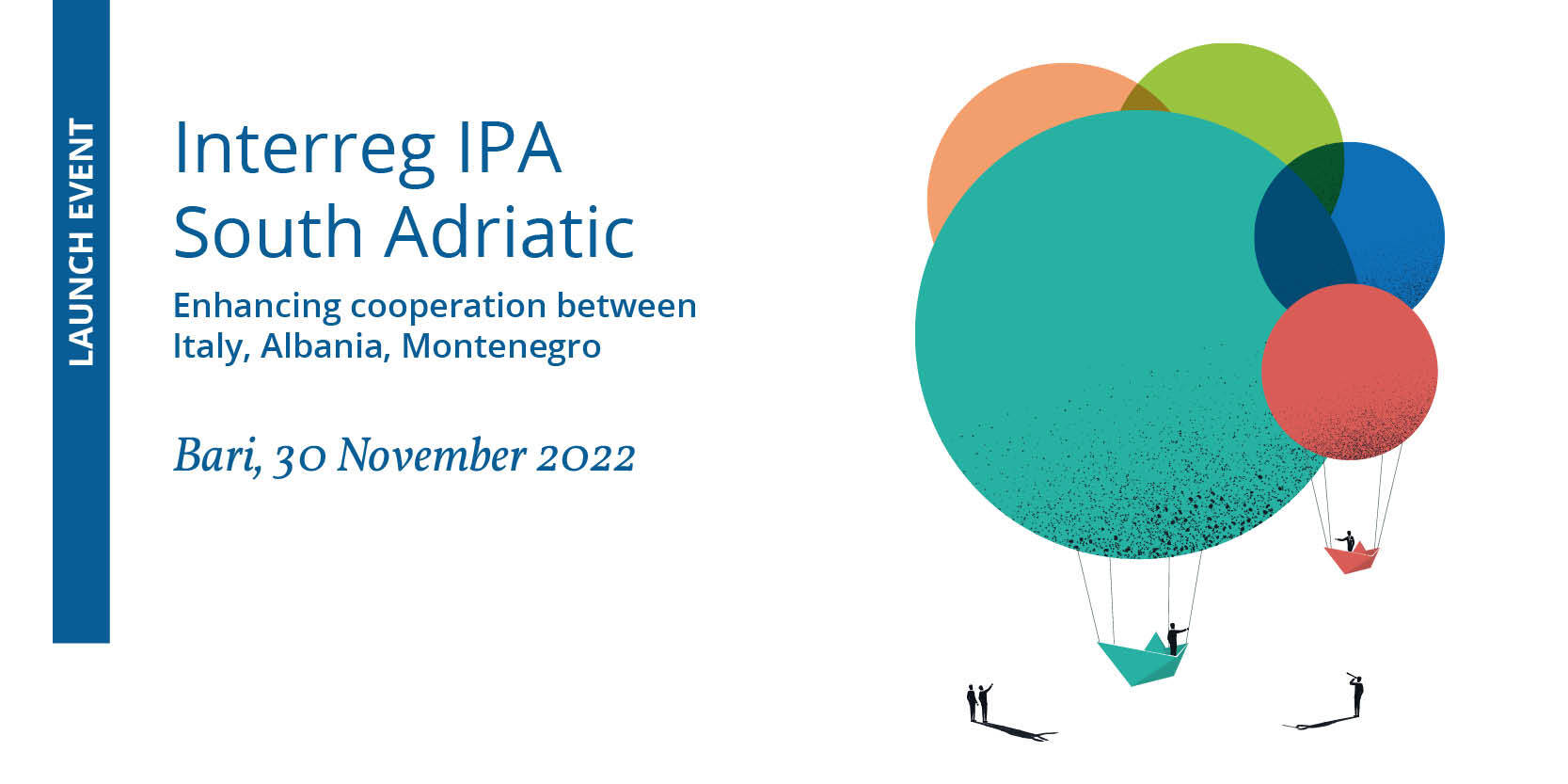 Interreg IPA South Adriatic, Launch event on 30 November in Bari
Overview
There is time until Friday 25 to register for the Launch event of the 2021-2027 Interreg IPA South Adriatic Programme (continuation of Italy-Albania-Montenegro 2014-2020).
The event, organised by the Managing Authority and the Joint Secretariat, will be held on 30 November 2022, from 9:00 to 14:00 in Bari, in three sessions.
In the institutional session, at 09:30, representatives of the three countries, the European Commission and the Managing Authority will discuss the strategic importance of the new Programme for cross-border areas. 
Speakers: Alessandro Delli Noci, Regional Minister for Economic Development, Puglia Region; Crescenzo Antonio Marino, Managing Authority of the Interreg IPA South Adriatic; Marco Doglia, Department for Cohesion Policies; Ilir Beqaj and Kjara Adhami, State Agency for Strategic Programming and Assistance Coordination (SASPAC)/NIPAC; Aleksandar Mašković, State Secretary in the Ministry of European Affairs/NIPAC; Gilles Kittel, European Commission, DG Regio; Donato Toma, President of the Molise Region; Simona Mameli, Ministry for Foreign Affairs and International Cooperation, Paolo Galletta, Agency for Territorial Cohesion; Gianna Elisa Berlingerio, Department for Economic Development, Puglia Region.
In the working session, at 11:30, the Joint Secretariat will provide guidelines on the forthcoming  First Call for Project Proposals, which will finance projects on 5 thematic priorities: SMEs, Environment, Transport, Inclusion, Governance.
In addition, a networking session in thematic groups is planned, at 12:00, which will offer opportunities for exchange of ideas, partner search, and creation of networks in the programme territories.
The working language is English. The agenda is available HERE. Compulsory registration at THIS LINK until 25 November 2022. The event will be streamed live on the Programme's Facebook page.
We look forward to sharing with you new challenges and projects!