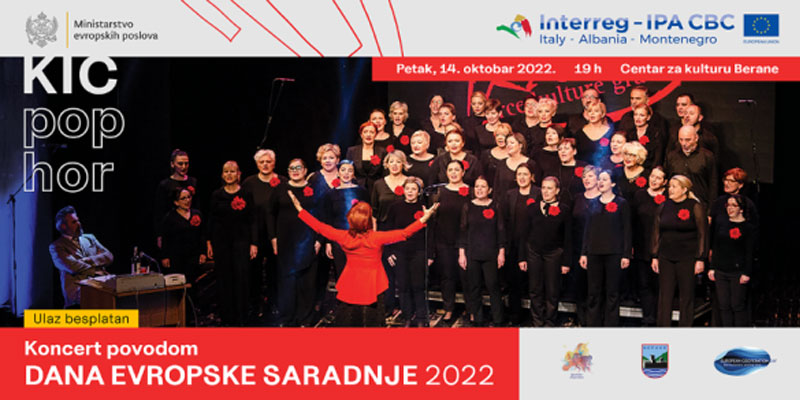 IT-AL-ME, free concert on 14 October in Berane to celebrate European Cooperation Day
Overview
A free concert by KIC pop choir will take place at the Cultural Centre in Berane on Friday 14 October to commemorate this year's European Cooperation Day. The concert is organized by Montenegro's Ministry of European Affairs in collaboration with the Municipality of Berane. 
The concert will be a celebration of the achievements of the CO-CLEAN project, which has resulted in the renovated and improved heating system at the Berane Cultural Centre. The project has been funded within the Interreg IPA CBC Italy-Albania-Montenegro 2014-2020 programme. 
The concert will feature hits by renowned local and regional acts, as well as many traditional and internationally popular songs, including Italian and Albanian folk songs. 
KIC pop choir is the first pop choir in Montenegro, composed of several dozen volunteers and true music lovers. The choir has performed in more than 100 concerts across Montenegro and the region. 
European Cooperation Day is the annual celebration of territorial cooperation in Europe and its achievements. Montenegro takes part in nine European territorial and cross-border cooperation programmes, with Montenegrin institutions and organizations implementing a number of EU-funded projects together with partners with the aim of improving citizen's quality of life.