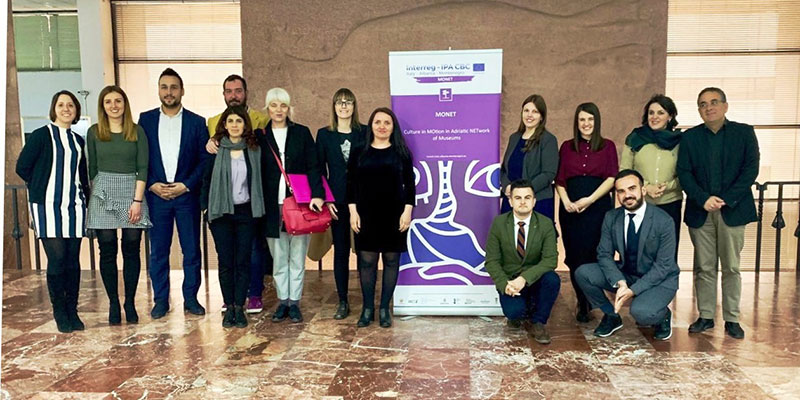 MONET, third project meeting on 12 March in Tirana
Overview
The third meeting of the project MONET - Culture in Motion in Adriatic Networks of Museums was organized on 12 March 2019 in Tirana, Albania. The meeting was hosted by project partner National Gallery of Arts Tirana and associated partner Ministry of Culture of Albania, together with Lead Partner Ministry of Culture of Montenegro, with the participation of all partners - ARATRO – the University of Molise's Archive of Electronic Arts and Laboratory for Contemporary Art, Pino Pascali Museum of Contemporary Art, Puglia Region - Department Tourism, economy of culture and valorization of territory and Marubi National Museum of Photography.
Project partners discussed about relevant topics related to the implementation of the projects, especially about achieved results, ongoing activities and financial and reporting procedures. Special focus of the meeting was given towards the creation of museum network and web platform activities that will result from the Memorandum of Understanding for the creation of Museum Network, signed on the second meeting in Polignano a Mare last year. In the next few months, project partners will create the database of local museums with geographical mapping that will be part of Museum Network web platform, online tool for developing common cultural offer of the institutions involved.
In relation to the International call for the selection of young artists for cultural exchange, that was open until the end of January, project partners agreed that in the next couple of weeks International Commission will finalize the selection process. Additionally, project partners discussed about the methodology of the exchange that will be organized at the beginning of summer, as well as about internal selection of the mentors involved on behalf of each museum.
At the end of the meeting, partners agreed upon the activities that are going to be realized in the forthcoming period.
Project MONET – Culture in Motion in Adriatic Networks of Museums is financed under the first call of Interreg IPA CBC programme Italy-Albania-Montenegro. The overall objective and the main goal of the project is the creation of a network model among museums in Albania, Montenegro and Italy, by using a common methodology and developing new services and tools. In that regard, the project aims to promote natural and cultural heritage through the valorisation of museums, in terms of management and services. Allowing museums to join a new cross-border type of management should improve the touristic and cultural offer and, consequently, visitor flows. As a result, this will increase the tourist growth, as well as sustainable and economic development in the involved areas that have different natural and cultural opportunities.