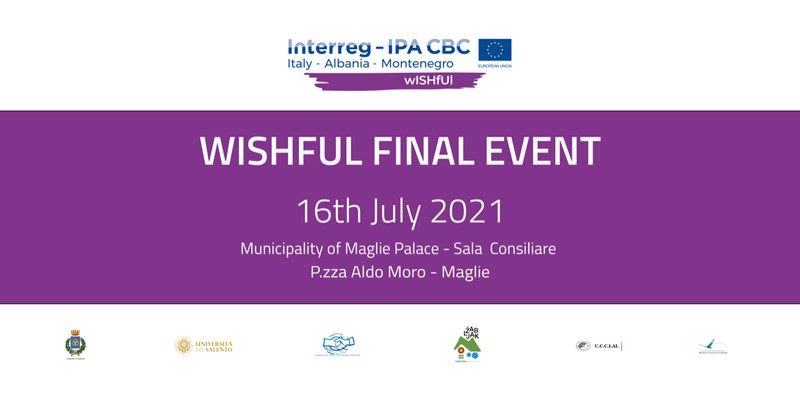 WISHFUL Project final event on 16 July
Overview
On July 16, 2021, at 4:30 pm, the final event of the wISHfUl project will take place in Maglie (IT), at the council chamber of the Municipality. 
It will be organised in a mixed way, with partners both in presence and online, in compliance with the social distancing and safety rules deriving from the Covid-19 pandemic. This event will consist of two sessions. The first session, at the council chamber, will focus on a brief overview of the project activities and the objectives achieved.
The second session, on the other hand, at Villa Comunale of Maglie (IT), will be dedicated to the presentation of the renovation works in the key to accessibility of this monument, always carried out within the wISHfUl project, and its opening to the public.
The live broadcast of the event will be transmitted on the official Facebook page.
The event will be an opportunity to show the results achieved by the project, which has been able to create an interregional ecosystem capable of enhancing territorial health excellences and cultural accessible heritage, given the wide interest shown in recent years in healthcare tourism. The project, in fact, has obtained results both in creating a path designed to combine health and wellness in a single experience and in the creation of a prototype platform devoted to inclusiveness, allowing constant updating of health tourism routes at interregional level.