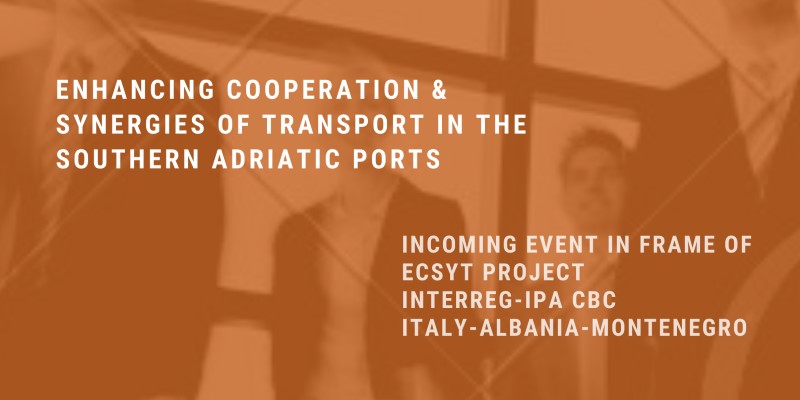 ECSYT, incoming event in Albania: study visit on 23 and workshop on 24 November
Overview
Within the frame of the project ECSYT – Enhancing Cooperation and Synergies of Transport in the Southern Adriatic Ports, an incoming event will be organized in Albania, divided in two days: a "Study Visit" on 23 November  and a workshop on 24 November 2021. 
The objective of the project is to create a more efficient management of transport connections in order to optimize actions of economic transport operators in the southern Adriatic ports, from a logistical, operational, administrative point of view. ECSYT project will involve stakeholders in the logistics and transport sector to ensure greater sustainability in the connections between South Adriatic ports and to create a network for the exhange of experiences. 
On the Study Visit, experts from Italy and Montenegro will visit the Port of Vlora, Triport and other important areas related to the transport sector within the frame of the project. They will also attend B2B meetings that will be held in the Port of Vlora, main hall. In the second day of the incoming event in Albania, a workshop will be organized to discuss about the current European situation of the transport sector in the programme area.  It will also put a spotlight in further development of the transport sector by building a better cross-border connection and creating a network for the exchange of experiences and more important to create a common strategy to increase coordination and efficiency of stakeholders and economic transport operators. Experts of transport sector from Montenegro and Italy will be invited in order to discuss during the workshop about their needs and to share the new knowledge gained during the events in their territories. They will also gain a new knowledge that can be useful in their territories. 
On 24 November 2021, the workshop will begin at 10:00 AM with a welcome speech, opening remarks and also a presentation of the ECSYT project and its objectives. It will continue with the speeches of project partners from both Italy and Montenegro. The workshop will continue with the speeches of Albanian experts from academic and professional fields, on operational management in the maritime sector as a process of great importance in increasing efficiency. Also, the matter of increasing cooperation between stakeholders as the basis for drafting strategies and transportation policies between Adriatic ports will be emphasized.
After the lunch break, the workshop will continue until other speeches from Albanian experts in issues such as the role and effectiveness of logistical organization in the transport sector etc. The event will end with a Q&A session that is scheduled to begin at 04:00 PM. 
Download the agenda of the event.